Retrospective:
50 years of Creative Excellence
Retrospective - Simcoe County Museum
Don had a 50 year respective of his work which was shown at 3 venues in 2017 and 2018 - the Simcoe County Museum, near Barrie; the Art Gallery of Northumberland in Cobourg and the Craft Gallery in Toronto. Pieces were borrowed back from private and public collections for the exhibition. The above video shares the retrospective as it was displayed at the Simcoe County Museum.


Homage:
Inspired by Outstanding Canadian Women

Homage, is a collection of 40 framed neck-pieces created as a celebration and tribute to Canadian women, past and present. The curator, Susan Benson RCA, sketched portraits of each of the women to accompany the pieces which, along with short biographies, add so much to the educational aspect of the exhibition. Donald Stuart used the familiar form of the necklace to explore history from a fresh perspective.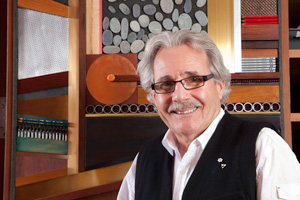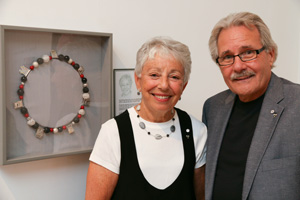 Anne Golden, CM

Necklaces are one of the oldest forms of human adornment and were worn by both men and women. However, from approximately the 19th century onward they were predominately worn by women to denote style, status and wealth. Necklaces are archetypal symbols of power and importance and are a fitting vehicle to represent seminal women in Cnadian history. The choices of materials for each necklace are as varied as the women themselves, each infused with meaning and significance. The exhibition has been presented at a number of galleries across Canada. In each case, it received favourable and enthusiastic responses due in part to the significant change in the role of women in Canada over the past few decades and the impact they are having in many areas. This exhibition pays tribute to and celebrates many exceptional women. This exhibition connects the arts, with business, culture and heritage.

UPCOMING CONFIRMED VENUES
HOMAGE:

Chapel Gallery
Bracebridge, ON
July 27 to August 24, 2019

St John Arts Centre
St. John, NB
July 3 to Sept. 4, 2020

The Beaverbrook Gallery
Fredericton, NB
October to December, 2020