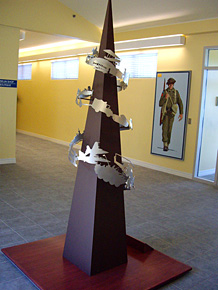 "Images of Borden"



Stainless steel and mild steel on
a cherry base
80cm x 80 cm x 2.5 m;
base: 1.2 x 1.2 m

At the Military Museum at Canadian Forces Base Borden. Commissioned by the Greater Barrie Chamber of Commerce and presented to CFB Borden in honour of their 90th Anniversary. The stainless steel spiral traces the history of Borden from the earliest days of soldiers in tents, through two world wars to the peace keeping and combat forces of today. The development of armoured vehicles, aircraft and artillery is documented as well.